Advice for all musicians, student to professional, by Peter Erskine & Dave Black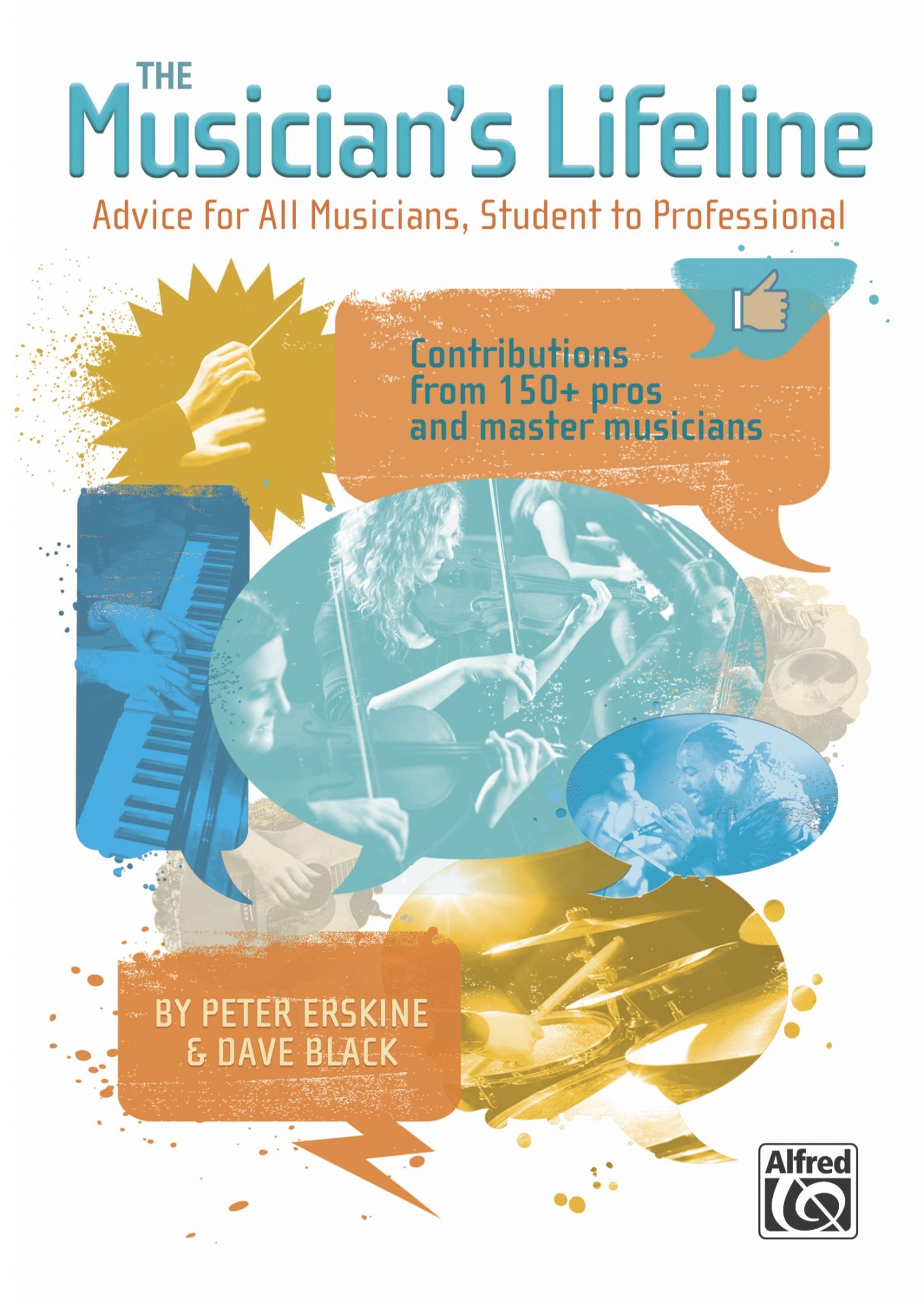 Written by Peter Erskine and Dave Black, The Musician's Lifeline represents the combined experience and knowledge of the authors gained through their lives in music. In addition, it includes advice from over 150 of the best musicians the authors have the honor of knowing, with topics ranging from sight-reading, learning, listening, auditions, the music business, practice, musical aesthetics and performance, to general travel and life wisdom.
Contributors to The Musician's Lifeline include Gordon Goodwin, Nathan East, Janis Siegel, Christian McBride, Mary Chapin Carpenter, Gary Burton, Kenny Werner, Steve Smith, and so many more.
A few of the universities represented are Indiana University, USC, Eastman, University of Miami, University of North Texas, and the Berklee College of Music, with players from major orchestras including the Los Angeles and New York Philharmonics, London Symphony, Munich Phil and Cincinnati, National and San Francisco Symphony Orchestras. Band alumni include musicians from the groups Chicago, Herbie Hancock, Weather Report, Ringo Starr, Count Basie, Buddy Rich, the Lincoln Center Jazz Orchestra, Miles Davis, Dizzy Gillespie, Frank Zappa and Frank Sinatra.
View a Sample Page         View All 165 Contributors
Why The Musician's Lifeline?
The initial impulse for writing this book was to build upon the success of our previous collaboration, The Drummer's Lifeline: Quick Fixes, Hacks, and Tips of the Trade. This book would represent our combined knowledge and opinions formed by lives lived in music. Since Dave and I are both drummers, we naturally felt that, while much of our advice would be universal in scope and appeal, we needed to bring another voice into the authorial mix. But who?
Turns out that we both had the same inspired thought one morning, and our emails—like ships crossing in the morning sun—were semaphoring the same message: "What if we invited the best musicians we can think of to participate?"
So, that's what we did. To our everlasting gratitude, 165 of the best musicians and educators we have the honor of knowing agreed to answer this simple set of questions:
What's the best advice you've ever received?
What's the best advice you've ever given?
What's the one thing you'd have done differently in your studies/career?
Best travel advice?
Best sight-reading advice?
Do you have any business advice for a musician?
Any advice relating to people skills?
Plus, a bonus question for non-drummers—re: advice to a drummer, and a few more bon mots of wisdom regarding auditions, recording, etc.
The answers will surprise, inform, and confirm what you already know or completely contradict what you've been taught by others.
This is a book you can read straight through in one sitting or jump around willy-nilly if you like … and always return to time and again. Our hope is that this book will become a trusted source and friend.
Herewith we give you The Musician's Lifeline.
Peter Erskine & Dave Black
Los Angeles, 2019