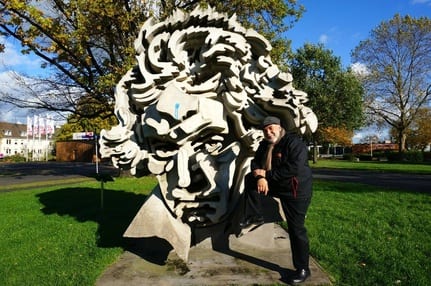 Giving thanks on this Thanksgiving holiday weekend. It's been a busy and fulfilling couple of months since my last blog post.
And since performing the opera "Anna Nicole" with the New York City Opera at the Brooklyn Academy of Music, I've:
1. done gigs and recordings in Los Angeles,
2. played the Jazz Standard in New York City  w/ Tierney Sutton,
3. played the Gil Evans AND Bill Potts versions of Porgy & Bess,
4. toured and recorded with Belgian saxophonist Frank Deruytter … AND visited the ATOMIUM 
This was a big thing for me, as I've wanted to see the Atomium up close and in person ever since I was a kid. So, this year was a World's Fair trifecta win for me: the Seattle Space Needle, the Flushing Meadows Unisphere, and the Brussels Atomium. It's fun to be a tourist, sometimes.
Meanwhile, back at work…
Premiered the Mark-Anthony Turnage composition "Erskine — Concerto for Drumset & Orchestra" with the great Beethoven Orchester Bonn, conducted by maestro Stefan Blunier. The piece is brilliant, and so much fun to play. Happy to report: a great concert! Also of note: used my iPad instead of printed music on a music stand. Here's a shot from one of the rehearsals…
From Beethovenhalle in Bonn, my wife and I went to the Convention Center in Indianapolis for PASIC 2013… where we sold and signed many copies of my new book "No Beethoven," now being published in paperback by Alfred Music. We were also there to let people know about our play-along apps, designed with developer Lucas Ives and artists such as David Garibaldi (Code of Funk), Aaron Serfaty (Afro-Cuban Essentials,) and Alan Pasqua & Darek Oles (Jazz Essentials, vol. 1). Here we are at our first little booth @ PASIC …!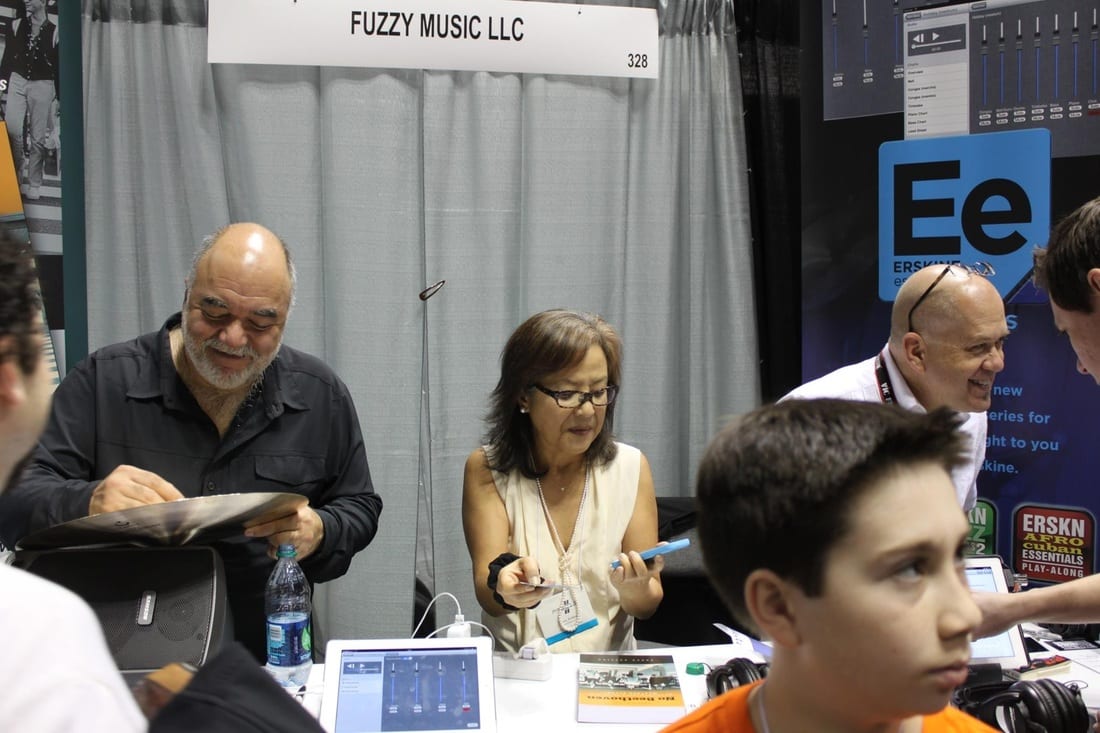 Also got to play in concert with Mike Mainieri … SO MUCH FUN to play "Pools" again …
oh yeah: Jazz Essentials vol. 2 will be released soon, with a RECORD YOURSELF feature built-into the app.And then it was home again, home again … where I promptly signed-on with Remo … SO MUCH FUN to play on Remo heads again. The SkynTone head is a revelation. I think that they should call it: the Er-SkynTone !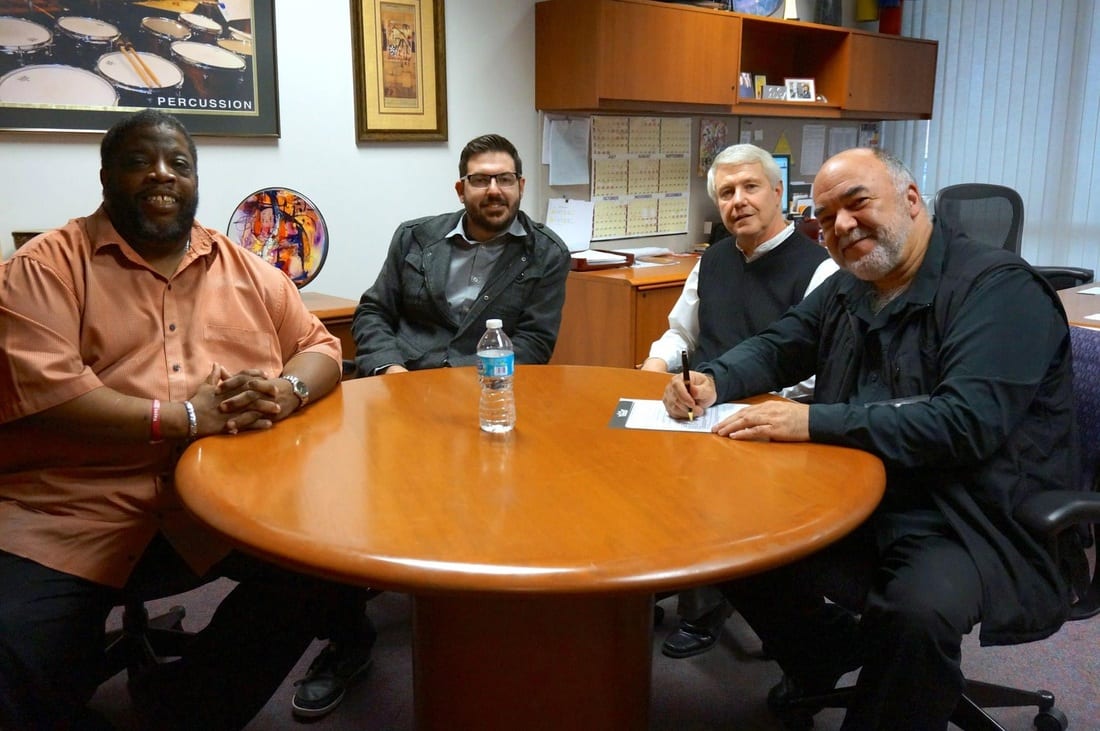 That's Chris Hart, Adam Murphy, Brock Kaericher & me at the Remo facory & offices in Valencia.
Oh yeah … worked on Wayne Bergeron's new big band album in Hollywood, and will be playing at Vitello's in the valley on November 30th with Chuck Berghofer & Terry Trotter. December? Some really cool things coming up. STAY TUNED.
All of which I'm grateful for. And, so, I give thanks to everyone around me, and to all of you who listen to my music, read my book, use my apps, or simply check out this blog. I feel so fortunate, I hope that I can pay it forward appropriately as time goes by.So, join me and let's all say a word of THANKS, and be as kind as we can be to one another. Life is too precious and too short to do otherwise.Keep swinging and have fun.
Peter Erskine, Santa Monica, 11/29/13